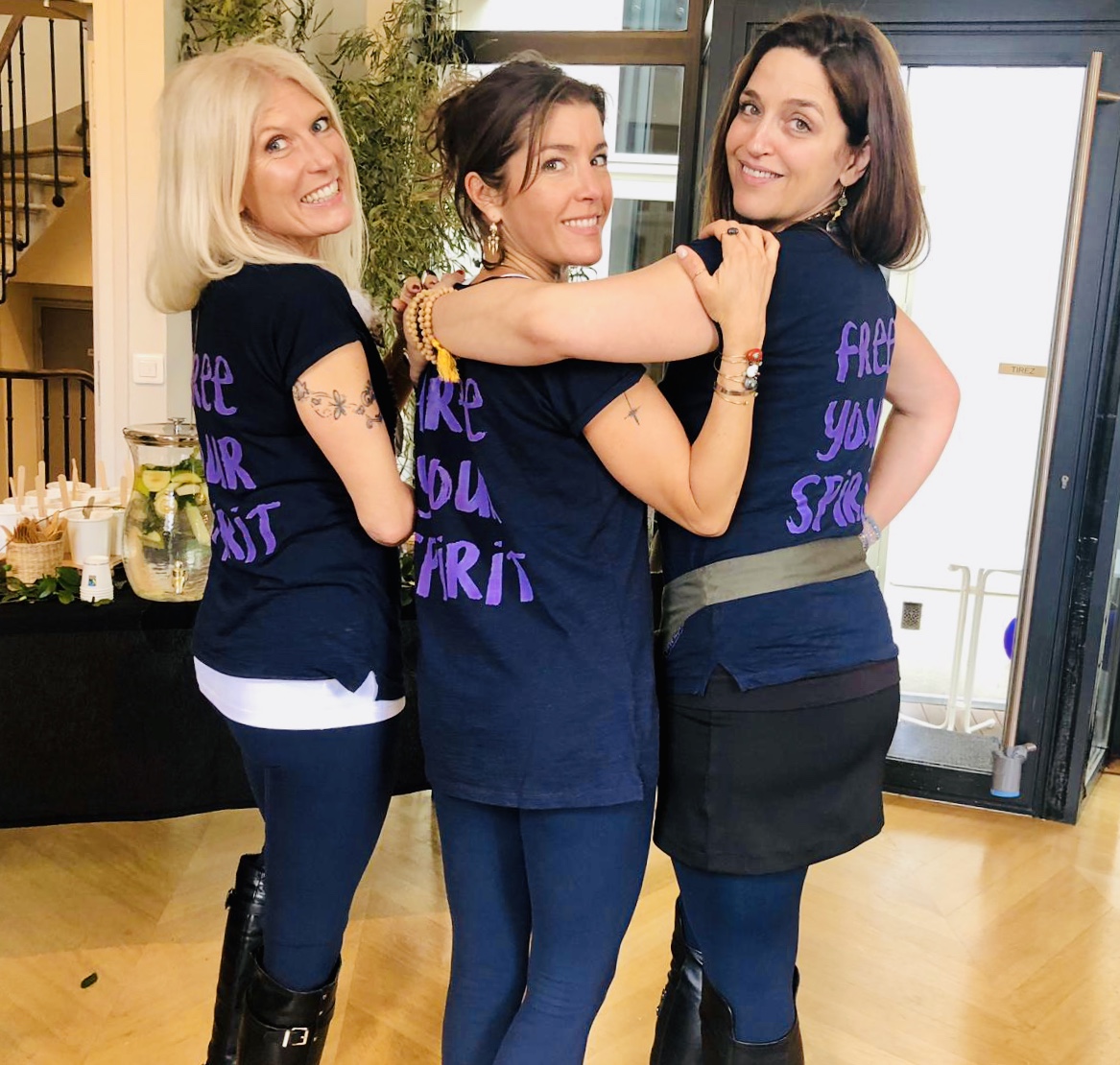 Charlotte Saint Jean, Elodie Garamond et Sophia L. Mann présentent la quatrième édition du Women's Spirit festival. Une histoire de femmes, une histoire d'amitié, une histoire de confiance, une histoire d'énergies féminines. 2 jours de célébration de la vie au féminin dans la bienveillance, sans jugement….
Created by women for women. Prochaine édition en 2021 dans la lumière et la joie Hotel Salomon de Rothschild
Les femmes font face à un besoin – réel ou inconsciemment érigé – de devoir « tout gérer, tout le temps, toutes seules ». Et d'être partout ! Nous incarnons toutes plusieurs femmes en un seul corps : maman, muse, businesswoman, chef de famille, gouvernante, sportive, chauffeuse de taxi, copine, confidente…. La liste est sans fin ! L'ambition de ce Festival est de créer un rassemblement de toutes ces femmes dans une ambiance détendue et puissante en un lieu unique. De rassembler une équipe de professeures internationales pour partager, enseigner, encourager, guider et faire grandir chacune dans sa féminité…
Charlotte Saint Jean, Elodie Garamond and Sophia L. Mann present the third edition of the Women's Spirit festival. The story of three women, all women, of friendship, trust, feminine energy. 2 days to celebrate womanhood in an atmosphere of non judgment, celebration, kindness and gratitude.
Women are facing a real need. Consciously or unconsciously. We have this feeling that we need to manage everything, all the time and all on our own. We are several women in one body – mother, muse, businesswoman, head of the family, sportswoman, taxi driver, friend, confident. The list is long! Our ambition : to create a relaxed atmosphere and a powerful space in a unique building. International teachers sharing their passion, their experience and their styles. Sharing, teaching, guiding, to grow within each of us and in our femininity…
Strength - Puissance
We Women are a strong force of nature!
Nous les femmes sommes des forces de la nature.
Soft - Douceur
We Women are soft, sensual, intuitive
Nous les femmes sommes douces, sensuelles, intuitives.
Beautiful - Beauté
We Women are beautiful & unique Goddesses
Nous les femmes sommes belles… des déesses uniques !
Un Festival pour Célébrer Shakti
"When women come together and breath, practice, sit together something amazing happens."
Sean Corn
Yoga
Des pratiques de Yoga variées et des pratiques psycho-corporelles pour célébrer et honorer la femme sous toutes ses visages.
Yoga, Wellbeing and Dance to celebrate and honour women of all styles, cultures, shapes and characters.
Meditation
Des pratiques profondes de mindfullness & méditation pour accueillir et se connecter à son silence intérieur.
Deep meditation and mindfullness practices to welcome the silence within. 
Conferences
Des conférences et rituels pour nous éveiller sur tous les plans, physiques et spirituels
Conferences et rituals to awaken body and soul.
WSF 2021 will be full of surprises
Yoga
Dynamic, soft, deep, fun, sensual, flowing, original…
Think & Be Inspired
Conferences & Ateliers DIY
Dance
Move and liberate body & soul
Feed Your Body
Conferences & consultations about nutrition plus some incredible yummy food at the festival
Shopping
Some beautiful things to go with beautiful people
Our weekend and multi-class passes are available at Early Bird prices – Nos pass weekend et multi-cours sont disponibles aux prix exceptionnels "Early Bird" – restez en contact pour nos options de tarifs en début de 2021
Weekend Pass
Access to all classes, masterclasses, conferences and workshops
Accès tous les cours, masterclass, conférences et ateliers
Multi Class Tickets
Access to one or more class (excluding masterclasses)
Accès à un ou plusieurs cours (hors masterclass)
Single Class Entry
Just one class interests you – no problem
Juste un cours vous intéresse – pas de soucis